---
Schedule 60 quality social media content this month. Automatically post it every few hours. Spend time running your core business while your Facebook, Twitter and LinkedIn account does the heavy lifting for you by engaging your customers and prospects. Repeat next month.
---
If this sounds like your idea of good time, then free up your time to concentrate on your core business and let Zen Seo Malaysia manage, customize and distribute quality contents to your social media accounts. Our digital agency marketing team make reaching out to your customers and prospects easier.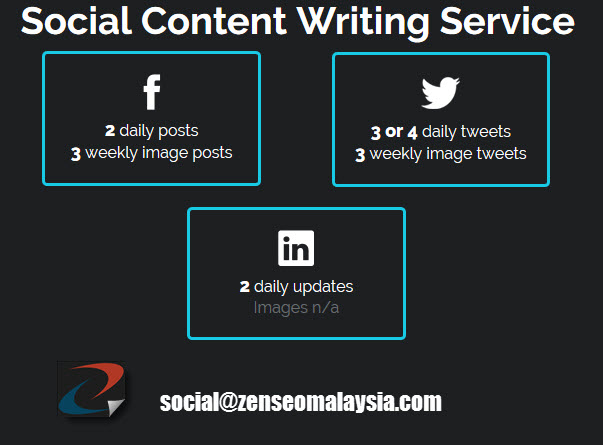 SOCIAL STARTER PACKAGE : The minimum social presence that your business needs to be relevant and engaging in your market. This package is perfect for companies with minimal budget, but still want high quality content posted to their Facebook, Twitter and Linkedin pages.
BRAND BOOSTER PACKAGE : This package is for you if you are ready to take your social media to the next level. This is for companies that want larger following in social media. This package is designed to build trust, authority and credibility of your brand. This is also where the "viral effects" takes place, when users starts sharing and liking your content, creating even a larger customer base.
2016 UPDATE  – We Now Offer Pinterest in our social platform
What is Social Media Marketing?
Nowadays everyone is connected to some or other social media site, regardless of age, race or where on the planet they are situated. Making use of Twitter; Facebook; Instagram or even professional sites such as LinkedIn as a means to get your services or products known, is one way to truly become a household name and grow your existing business. These websites are a means whereby smaller companies can actually level the playing field when it comes to marketing their business. If you are unable to reach your target market, It is simply not enough to merely use the traditional marketing tactics and media that have proven to work such as special discounts or free trials. The best way to do this is to make use of the social networking sites to create a "buzz" about your company. For larger brands, social media provide an unprecedented advantage to improve brand loyalty, strengthen the digital presence and to increase search engine ranking.
How can it actually help your company grow?
Firstly you need to look at what works for social media networking sites. With 64% of Facebook users log in into their accounts on a daily basis, you can understand that in order to be seen you need to have something to offer. To stand out , your account must draw users in and capture their attention and then be so good that they simply cannot ignore hitting that all important share or follow button.
The one way to get your site to "go viral" which is a good thing for any online marketing strategy is to have content that makes people take notice. It does not always need to be shocking or entertaining; although that does help tremendously, if you just offer something noteworthy then chances are it will be shared and find its way around the world.
Forbes lists top 10 benefits Social media on their site.
2014 statistics shows 92% businesses claimed social media marketing strategy was important for their business with 80% revealed that their move increased traffic to their websites. The number is growing!
What the above means for any business owner is that they cannot afford to ignore using this very powerful marketing tool. If your primary reason for not using a social media sites is due to not having enough time, then you should consider using social media management services.
The Problems
The one major dilemma that most companies do face though is that running any type of social media account can be time-consuming, especially when you have more than one site and several thousand followers. On the other hand, some companies have absolutely no idea where to begin. Some other sentiments that we hear are companies have Facebook page but hardly anyone visits, or that they have a very nicely designed website, so they do not bother with social pages.
If you choose to manage the social media pages yourself, think about all the time you will spend to research and write quality and engaging contents. Then think about how you would manage all the different Social media accounts knowing that your followers will expect a constant stream of engaging content week after week.
If you look at the long to-do list involved not only one but all of the various social media accounts, it can be overwhelming. However, if you hire a professional social media marketing company or social media manager you will not only get an affordable solution to your problem, but also have someone who will be taking care of this very important part of your business' marketing.
Hiring a permanent social media manager could cost you a huge chunk of your company profits. But with our specific social media management Malaysia services you can have the best of both worlds. We will not only manage your accounts, but we will make sure that you are getting the best advertising and social media exposure. What's more, all you need to do is opt for a package that suits your company's social media requirements and know that your marketing budget is set. Selecting a set package means that there will be NOT nasty extra expenses at the end of the month. You will get daily content posted on Facebook, Twitter and LinkedIn for the fraction of the cost.
Consider our offer:
Social media management packages that suit your budget
A social media marketing plan that will work to increase awareness of your company
Daily updates on your various social media accounts
Ensure that all content is interesting and meets with your company's values
Write noteworthy tweets and posts that will keep your followers hooked
Always be on top of the latest trends and reply promptly to any fan tweets or follows
Help you to gain a steady flow of new followers or Facebook friends
Provide you access to a dedicated portal where you can access and control all the scheduled content and add or edit the content on your own.
No obligation on your part, cancel anytime.
So let us get to work to let you noticed on social media sites, gain new followers, provide value to existing customer, and you can concentrate on the day to day running of your business.
Email us at social@zenseomalaysia.com  if you have any questions about our social media management services, plans and pricing.